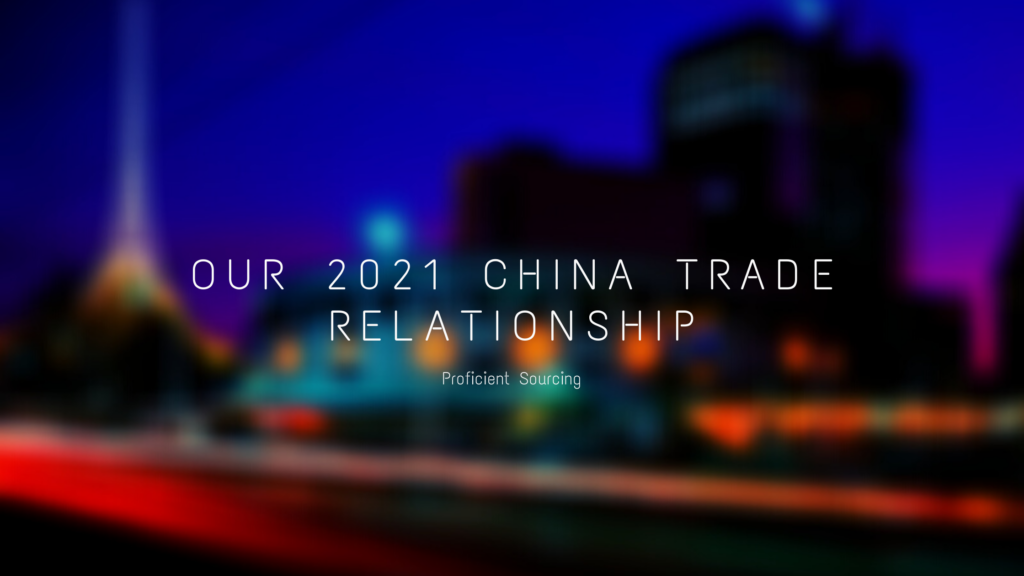 As we look beyond coronavirus effects, much of how our economy develops in 2021 will depend upon how we deal with China. Obviously there have been significant changes due to the pandemic, and now we have a new administration.
Many believe the new administration is more favorably inclined to China, and there are even some reports of China "buying" influence as a widespread problem. Here's just one example from a San Francisco newsletter: "The inaugural committee for President-elect Joe Biden reportedly returned a $500 donation from former California Sen. Barbara Boxer after it was learned she registered as a foreign agent for a Chinese surveillance firm. Axios reported that the committee rejected Boxer's donation since the Chinese firm — named Hikvision — has been "accused of abetting the country's mass internment of Uighur Muslims." According to Justice Department documents published Friday, Boxer provides "strategic consulting services" to Hikvision's subsidiary in the United States".
Recently we also heard reports of Chinese spies associated with Senator Feinstein and Representative Swalwell. We are unaware of other nation's agents "penetrating" other powerful political people, so is this a big deal problem or is China some benign friendly country just trying to improve relations?
A March 19, 2020 article from the Carnegie Endowment for International Peace forecast serious problems for the Chinese economy due to the decline in the US economy at the time due to the pandemic. China's early 2020 economic results were year over year retail sales down 20.5% and industrial production also down 13.5%.
This article further notes China's success in containing the virus with draconian measures had significant negative effects on their economy. Millions of migrant workers could not return to work, leaving many factories short of help, in addition to disrupting their supply chains.
Add to those problems the slowdown in US and European economies, it would appear China sales would experience a very bad year.
To counter these effects in China, the slowdown globally increased demand for many China manufactured goods. With US buyers unable to spend on entertainment, restaurants, and other services purchase of many Chinese goods actually increased. On the other hand, reliance on foreign suppliers for vital medical goods, perhaps even prescription drugs, is getting a serious look. Whether the US will take over manufacturing some of these essential items remains to be seen. This same ambivalence appears to be the case elsewhere.
Much has been written about reshoring manufacturing, especially from China. So far results are mixed. Some reports suggest some success in moving manufacturing back to the US. Other reports claim movements from China are occurring, but they are going to places like Mexico, not the US. Our guess is it's a very specific situation, and depends upon the particulars of material costs, labor requirements, quantities and quality required, and other things specific to the particular items being manufactured. Making shoes is very different from automobiles.
There are obviously great advantages to moving manufacturing back to the US. Proximity to suppliers and customers is clearly useful, as are reduced shipping times and costs. The US has good transportation and cheap/abundant energy, vital to many industries. And excellent security along with protection of company trade secrets are also enhanced.
Yet, China also offers access to many advantages, including great experience dealing with the US markets. Labor is still much cheaper, as are many materials and processes. From a pure profit standpoint, very many things will continue to be made and imported from China (and elsewhere). This despite whatever political issues arise from administration to administration. Money talks!
The Hill's 12/3/20 article noted these important points:
"Especially in a crisis, there is a reflexive instinct to hunker down and guard against foreign threats. In the face of COVID-19 and growing tensions with an ascendant China, there have been calls from Congress to stop relying on foreign suppliers in our medical supply chains".
"There are legitimate concerns about what we send or do not send to certain countries for national security reasons, which foreign companies should or should not have access to U.S. investment, and which products should be sanctioned. But for the vast majority of trade, the logistics industry is best suited to manage most risks". 
"Despite the stated desire to reshore, there is little evidence that companies have actually done much of it this year in response to the pandemic, or that they were doing so earlier during the trade-restrictive moves by the Trump administration. Observers note that supply chains have largely held up to the pandemic test. This may reflect the efficiency of the logistics industry. Even when the federal government tries to intervene, it often proves difficult, if not…costly".
"In a recent study, University of Texas at Austin Research Fellow Nitya Pandalai and coauthors looked at the trade-offs between reshoring and nationwide lockdowns across 64 countries. The authors found that moving supply chains back to the homeland inflicted a greater blow to GDP compared to imposing a national lockdown while maintaining open trade. In other words, no matter how stringently you respond to a pandemic, it's important to keep global value chains open".
So–what to make of all this?
China appears to be a very important factor for the US economy as far as the eye can see. While they are surely a competitor worth careful watching, they are also a critical supplier for many industries—rare earths being a vital trade ingredient. Like it or not, and despite all the noise about tariffs, buying influence, theft of trade secrets and intellectual property, China's gong to be a critical trade partner. We'd better make the best of it, but be careful!