Recently we found a report of profit growth for companies in the Standard & Poor's 500 of nearly 14% in the first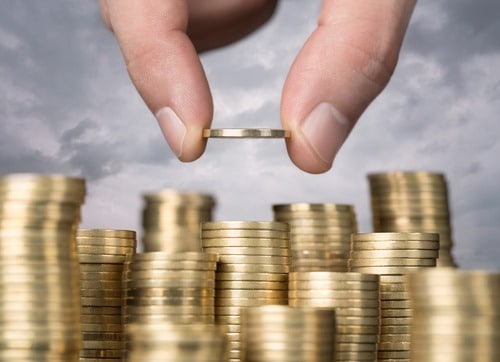 quarter of 2017. Given the poor overall economic growth (GDP growth was 0.7% in the first quarter—a 3 year low!), there's the obvious question of what's going on here?
This report from USA Today (link at the bottom) article says that stronger demand for US goods by foreigners is the reason. What follows is a summary of this USA Today article.
"It is the overseas buyer in rebounding economies around the world that is snapping up tech gadgets, chips and computer hardware from US companies headquartered in places like Silicon Valley, and heavy machinery made by American firms based in places like Peoria, IL, that is propelling profit growth. S&P 500 companies that get 50% or more of revenue from outside the US are forecast to grow earnings at two times the rate of domestic-focused companies."
The S&P 500 Index is within a fraction of a percent of its March 1 record high. This index is one of the "most closely watched stock gauges in the world and is viewed as a barometer of the US stock market's health due largely to the fact that it is made up of 500 large company stocks that represent all of the US's key business sectors.
This profit growth is mostly due to three things.
1) Global reach is paying off. American companies that lead in industries such as technology, energy, and heavy equipment manufacturers get roughly half—or more—of their total sales outside the US. The good news here is that the major foreign economies are improving: Europe's April manufacturing data reached its highest level in 6 years.   Japan's growth outlook was upped from 1.3% to 1.5% by the Bank of Japan (that's a 15% increase!). And growth in China is stabilizing just below 7% after fears of a more dramatic slowdown. The multinationals are looking good!
2) Growth in foreign economies is widespread. After years of the US accounting for most global growth, most other areas are now on the upswing. One source notes "we will do close to 4% global GDP growth this year for the first time in a few years. That's a big number."
The International Monetary Fund now sees a 4.5% growth in 2017 for developing markets, vs the 2.3% growth forecast for the US. A Morgan Stanley strategist says the world economy is getting contributions from virtually every corner of the globe. "It's really the first time in a long time we've seen all these economic engines moving in the right direction at the same time."
3) Oil prices have rebounded and are now at about $50/barrel. US energy companies enjoyed an earnings surge of nearly 650% in the first 3 months of 2017.   Energy companies were a big driver to the earnings downslide for most of 2016, and now are big contributors to earnings growth.
Another boost to earnings has been the US dollar declining more than 3.5% in value this year vs. a basket of foreign currencies. A cheaper dollar means our products are cheaper for foreign buyers. One observer noted, "we're finally getting past those two big headwinds."
This report concludes with this: "Don't count out the US. The foreign profit boost doesn't mean the US economy isn't helping. The vast majority of data suggests the US economy is doing quite fine."
Sounds like good economic news for us all! We certainly hope so.   If your forecasts indicate expansion, please keep in mind we at Proficient Sourcing (https://proficientsourcing.com) are standing by to help you find those suppliers you need for manufactured parts and assemblies. We're just a phone call away: (513) 489-5252.
Want the full report: Here's the link to the USA Today article.