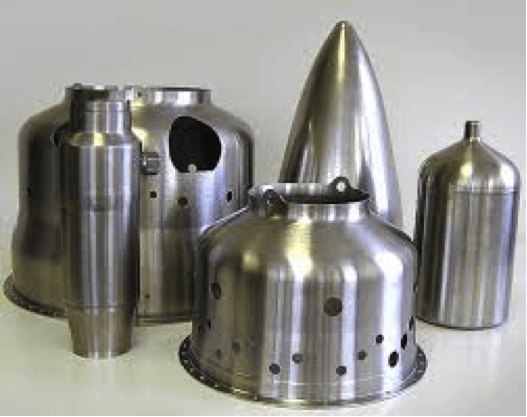 If you require round, hollow metal parts or shells, perhaps similar to the photo the left, metal spinning is the likely process needed. We have an excellent metal spinning source with over 40 years of industry experience, and customers include aerospace, agriculture, energy, food service, furniture, lighting, medical, government and military, vehicles, railroad, and scientific equipment companies.
Our metal spinning company has a history of short lead times with on-time delivery. They offer a full range of services from hand spinning to a full range of CNC metal spinning services. Their assortment of equipment and features offers the customer quick set up and turnaround with low costs. The company also has considerable experience with prototyping, and the metal spinning process is well suited to small quantities.
Reach Out to Me Directly for Questions
Just give me a call (513) 489-5252!
Metal Spinning is a relatively inexpensive process, since the tooling, molds, forms, and shaping devices are all relatively inexpensive and long-lasting. Process-wise, metal spinning competes well with stamping, casting, forging, and hydroforming. Metal spinning allows the use of thinner original material and the result is near net shape,