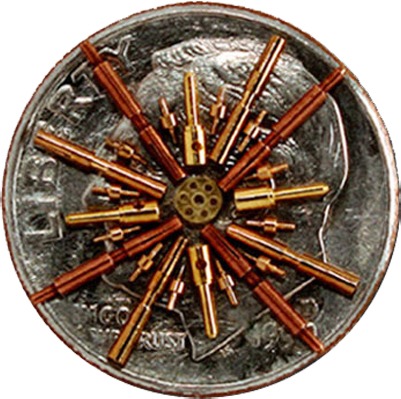 Our network of machining covers a very large range of capabilities. Recently we promoted the very large parts that one company can handle. This time we are focused on the very small. And for the very small we have not one, but several micro-machining sources.
These suppliers are happy to support both prototype and high volume requirements. The featured capability is swiss turning, 0.004" to 1.625" diameter with dimensional tolerances to +/- 0.0001".   In addition, honing, OD and surface grinding, machining and turning centers are available. Please visit our capabilities page for information on our varied capabilities.
These companies are active in almost all markets: aerospace, defense, nuclear, photonics, electronics and medical devices are commonly served. In addition to standard stainless and aluminum, these companies are experienced with titanium, Inconel, Hastelloy, nitinol, brass, beryllium copper, and bronzes in addition to a variety of plastics (ABS, Delrin, Actal, Rexolite, Ultem, Nylon, Noryl, Vespel, and more).
One company has a collaboration program with their engineering department. The engineering group works with customers to develop a validation strategy and a Risk Analysis that incorporates qualified machinery and trained personnel using the most repeatable and reliable test methods.
Reach Out to Me Directly for Questions
Just give me a call (513) 489-5252!
Specializing in tiny parts requires an advanced level of part inspection and quality control systems. Among the inspection equipment available is the Global Advantage 5x5x5 mm CMM. Another is the Oasis® a full featured, non-contact video profile measurement and inspection system that allows inspectors to measure multiple dimensions on a part simultaneously—and instantly!
Finally, these companies are experienced with prototype projects, new product engineering, and R&D efforts requiring special attention, fast setups and short lead times. So if your situation involves the very small, we have worthy supplier choices standing by!