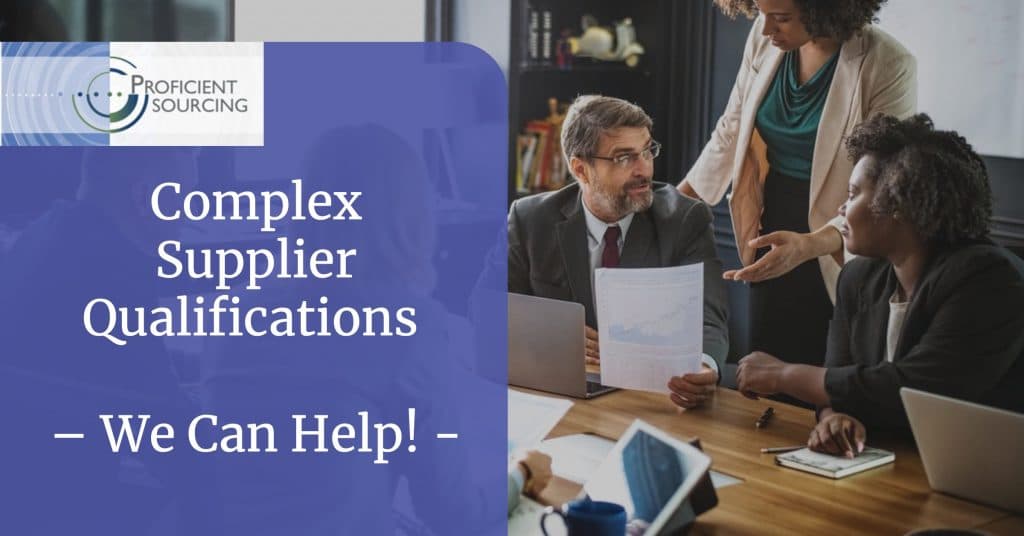 If your new supplier qualifications are complex and involve non disclosures, equipment lists, capability statements and similar documentation before permitting quotes, we often help to make this MUCH easier.
Proficient Sourcing frequently discusses projects with potential customers concerned about security of the information to be exchanged. Because we have a special interest in machinery and equipment, there is often concern about disclosures to competitors. This is obviously true for other kinds of work such as military/government contracts, medical devices, or sophisticated development projects. The procurement/purchasing people require significant documentation details before disclosing specifics of the project in question, and this might entail time and effort to obtain from prospective candidates. We can simplify that process significantly.
When we are first contacted the potential customer discloses the general nature of their need. A recent example was a need for a midwest gantry milling source. Since we have multiple sources for that particular requirement we confirmed that there was a very good chance we could offer a suitable candidate, perhaps more than that, once we understood what was to be milled.
This is a typical situation; the potential customer needs to provide a minimum explanation of their requirement in order for us to be able to determine if that need is within the capabilities of one or more of our big network of shops. Check this website page for the array of capabilities available.
Once the potential customer is satisfied we can be helpful they send us a NDA, which we return quickly. Now the specifics can be revealed in sufficient detail that we can identify potential suppliers.
Given these data, along with as much quantity and delivery information as we can get, we then go to the potential suppliers to learn if they are interested in bidding on this business, which first requires a NDA on their part. In some cases the potential customer wants more information, such as equipment lists, types of work being performed, size of company, location and perhaps other things as well. Usually we can provide general information about any supplier under consideration.
If the potential customer wishes to proceed, they send us blank NDA's, and other forms needed, which forward to the particular company under consideration.
We will give our potential suppliers the contact information of the potential supplier and all documents will be returned to both us and the potential customer. We do this to not only give each party specific identity information, but also allow both to communicate directly to be sure there might be a good fit. At this point our job is to ensure all the asked for information is delivered in a timely manner (and we keep a copy just in case).
Now the potential customer can send information directly to the potential supplier(s), and copy Proficient Sourcing so we can help keep the communications flowing and move to the quoting phase as soon as practical.
So what we have done is make the preliminary information flow efficient, and inso doing relieve the potential customer of a good deal of time and effort.
When you are ready for this service, we are standing by at (513) 489-5252!