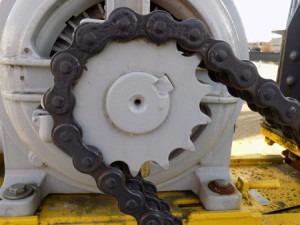 We have a supplier with 30 years' experience for the manufacturer of custom drive train and motion control components. They also welcome repairing, refurbishing, or rebuilding such components.
Controlled mechanical movement may involve a wide assortment of devices, and our source can manufacture custom parts accurately and quickly. Among the possibilities are these:
Gearing made to order: spur and helical, both US and metric, up to 36" diameter. Need internal teeth? Up to 18" PD, max LTB 4.00". Also straight bevel gears; ratchet gears, worm & worm gears. All these can be made from your print or sample.
Involute and straight sided splines, internal and external.
Roller chain and silent chain sprockets
Timing belt pulleys: HTD, polychain and synchro flex
Dynamic balancing (250 lb capacity) from G6.3 to G2.5 quality specifications.
Our source is also interested in working with you to repair, refurbish, or rebuild your drive train/motion control devices. Again, the variety of possibilities is great, but the most commonly requested services are for these:
Gearboxes, reducers, pumps, hydraulic cylinders, and linear screws.
If your device definition is lacking this source has vast experience reverse engineering new and replacements, even for obsolete or out of production parts.