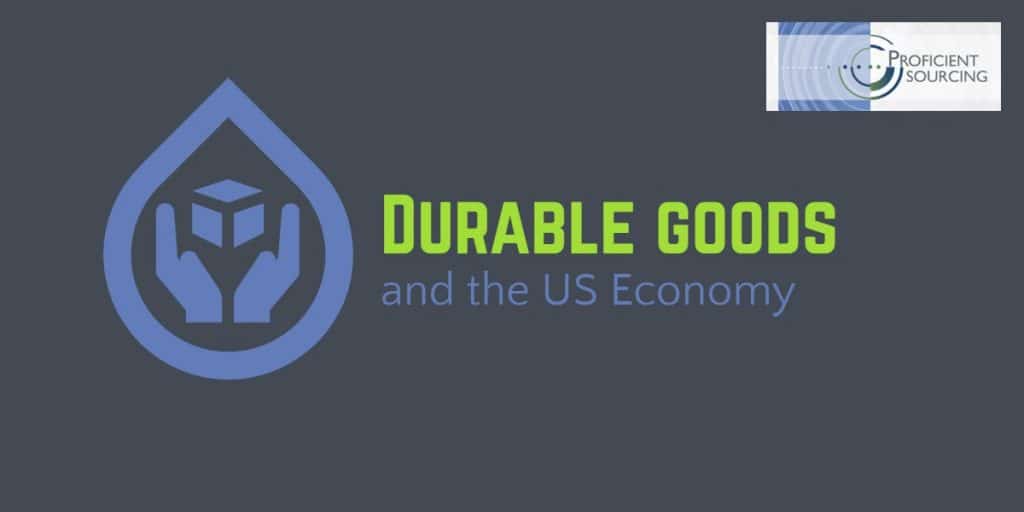 Last newsletter we wrote about the general state of the economy, which noted overall positive factors, but weakness in durable goods.  Since durable goods manufacturing is the area of our greatest interest, we thought we would probe further.
Durable goods orders and the Institute for Supply Management's PMI seemed like two appropriate measures for something as complex and inscrutable as economic forecasts.  We seek something useful that's understandable by normal people.
Since we're looking at durable goods orders aa an important factor, just what are durable goods, and why are they an important economic factor?  One article offers this:
"The US economy revolves around consumption trends, given that approximately 70% of GDP is accounted for by the spending habits of businesses and consumers.  As such, the Durable Goods Orders report makes for an important barometer of the US economy.  Durable goods are items with lifespans of 3 years or longer.  These items typically require greater capital investment to secure, thus traders can use the report as a proxy for business' andd consumers' financial confidence and health.  The preliminary March print is expected to show a gain of 0.6% after the 1.6% drop in February".
Another definition:
Goods, such as appliances and automobiles, that have a useful life over a number of periods. Firms that produce durable goods are often subject to wide fluctuations in sales and profits. Also called consumer durables.
Apparently durable goods measures may exclude sizeable and volatile sectors such as defense and aircraft, so reports over time may not be apples to apples.  Be careful!  Overall, we find some concerns but an overall positive outlook.  We will continue to attempt to translate reports from time to time, and welcome your comments in our blog.  Help us understand this complicated area.
At Proficient Sourcing (www.proficientsourcing.com)  we have assembled a group of companies that supply parts and assemblies for machinery/equipment OEM's (see article below), and thus we are particularly interested in how durable goods are behaving.  PMI offers a glimpse into the future via their credible forecast.
PMI is an index based on a composite of purchasing managers' surveys in manufacturing businesses.  A score is calculated, and 50.0 indicates a forecast of no change.  Above that suggests improvement, below indicates deterioration.
So we looked at a number of articles and reports and found the ISM April 2019 Manufacturing "Report on Business", which reported a PMI of 52.8, indicating general improvement:  "Economic activity in the manufacturing sector expanded in April, and the overall economy grew for the 120th consecutive month".  Sounds like good news to us!
The Institute for Supply Management's April report notes these specifics:
"Of the 18 manufacturing industries, 13 reported growth in April, in the following order: Textile Mills; Electrical Equipment, Appliances & Components; Miscellaneous Manufacturing; Printing & Related Support Activities; Chemical Products; Nonmetallic Mineral Products; Plastics & Rubber Products; Machinery; Furniture & Related Products; Food, Beverage & Tobacco Products; Computer & Electronic Products; Paper Products; and Fabricated Metal Products. The five industries reporting contraction in April are: Apparel, Leather & Allied Products; Primary Metals; Wood Products; Petroleum & Coal Products; and Transportation Equipment"
This indeed sounds like good machinery news to us.  And if you are involved with one of these growth manufacturing areas, please keep us in mind for your outsourced supplier needs!  We're ready when you are; and just a call away — (513) 489-5252.