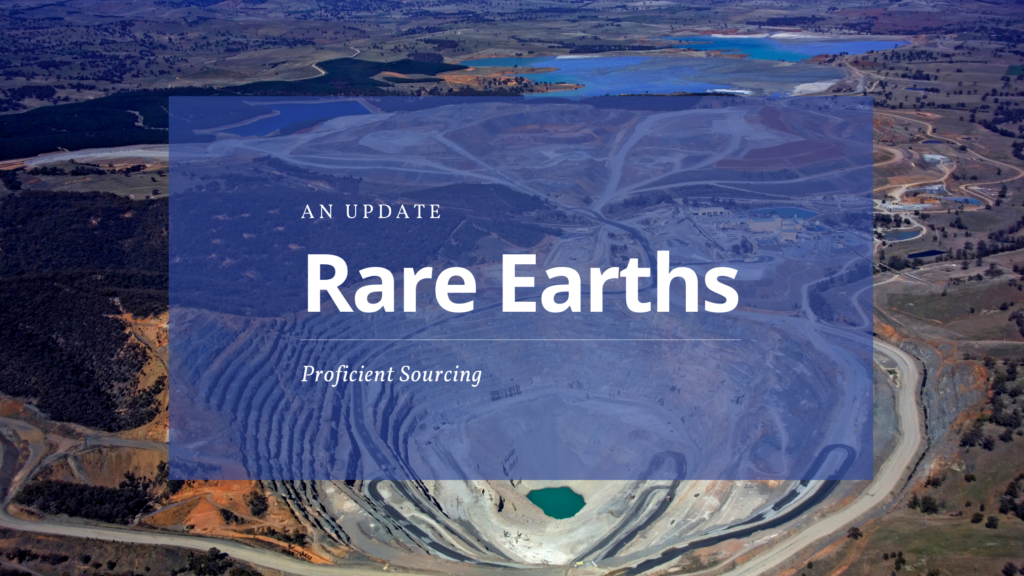 Rare earths, those 17 elements critical for many industries (defense, electronics, smart devices, etc) are a continuing global supply chain issue.  2 years ago we wrote an article, that summarized the situation as of mid-2019.  Now there's more news.
Both Trump and Biden administrations have made some noise to improve the US supply of these minerals.  Currently, China provides about 80% of worldwide rare earths.  Fortunately, several other countries are ramping up supply efforts, particularly Australia, Malaysia and some in Africa in addition to the US.
According to a CNBC article:
"President Biden's sweeping $2 trillion infrastructure legislation seeks to remake the power and transportation markets in the U.S. and rebuild the country's semiconductor industry. It follows Biden signing an executive order in February designed to review gaps in the domestic supply chains for rare earths, medical devices, chips and other key resources, and in March the Department of Energy announcing a $30 million initiative that will tap into researching and securing the U.S. domestic supply chain for rare earths and other important minerals in battery-making such as cobalt and lithium.
But efforts in the recent past to rival China in the rare earths market and rebuild a domestic industry have been stymied.  "It's technically possible to try and rebuild the entire supply chain because we once had it," says Jane Nakano, a senior fellow at the Center for Strategic International Studies' Energy Security and Climate Change Program. "It's not that we're not experienced, it's not that we have no idea of what the domestic supply chain may look like," Nakano said, but she added that business, environmental and political factors may make the effort difficult to achieve, especially over a short-time frame."
A quick background briefing, also from the CNBC article:
"Rare earth metals are actually more abundant than their name suggests but extracting, processing and refining are tricky for a myriad of technical and environmental reasons. These 17 elements — which are subdivided into the light rare earths and heavy rare earths subsets based on their atomic weights — exist in natural deposits globally.
Heavy rare earths are often harder to source. They include metals like dysprosium and terbium, which play a critical role in defense, technology and electric vehicles. Neodymium and praseodymium are some of the most sought-after light rare earth elements crucial in products such as motors, turbines and medical devices. Demand for them exploded in recent years with the growth of technology and will continue to climb amid the ongoing race to create a large electric vehicle market. "
Note all the applications that currently rely mostly on China.  We can only hope the government is effective in efforts to stimulate US supply for these.  We were the original discoverers of rare earths, but due to a variety of issues, surrendered the supply of these to China.   The grandaddy of rare earth supply sources was/is the Mountain Pass mine in California.  This facility's owner went bankrupt in 2015, but was purchased by MP Materials in 2017.  At that time restarted production and has received several grants and contracts from the Departments of Defense and Energy.  At this time the refining capability for large scale operations do not exist in the US (yet), and much of the extracts from Mountain Pass currently are sent to Asian refiners, again according to the CNBC article.
Mountain Pass's owners have plans for "expanding MP's U.S. capabilities, including a restoration of domestic refining capability at Mountain Pass by next year. Ultimately, the company, which went public last year through a SPAC merger, plans to "restore the full rare earth supply chain" to the U.S., the spokesman said, including refining and separation, and magnet-making by 2025, as the domestic electric vehicle market ramps up production.
"This is happening and I think it's happening much much faster than I think anybody had anticipated," said Ryan Corbett, the company's chief financial officer. "We can compete and we're going to continue to do it."
So at last it appears this US supply chain will awake from a lengthy slumber and be able to support such initiatives as the drive for electric vehicles and advanced defense hardware as well as the numerous commercial applications.  However, again from the CNBC article, "To meet rare earths demand without global supply chains, though, would require the U.S. to reach "massive levels of production," and build out an extraction and production chain that could take up to a decade.  The best course, for now, is to work with allies, such as the European Union, to reduce reliance on dominant players like China."
Design World is offering a free webinar on rare earths on 9/7.  We got an email invitation, and plan to attend.  The title is "The Rare Earth Magnet Supply Chain–Current and Future Status".  We look forward to an update on this important subject.
We'll stay tuned and continue to generate occasional articles.  Please let us know if you're interested!