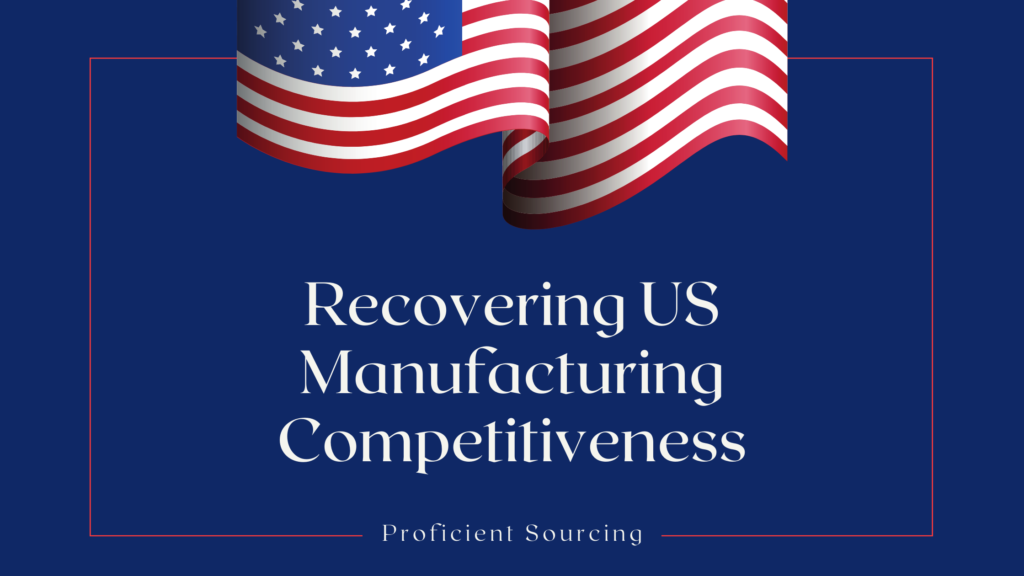 The March 25, 2021, article on Market Watch discusses how the US can regain it's former position as the world's most competitive manufacturer. The compelling thought is the US has the world's primary position in scientific research and discovery, which should drive manufacturing innovation. Why, then, haven't US manufacturers been able to translate that big advantage into a global competitive advantage? And why have countries such as Germany and China become so prosperous with inferior scientific establishments? According to this article:
"The explanation lies in a collective-action problem. Individual profit-maximizing firms underinvest in applied proof-of-concept research, measurement technology and standards, and workforce training because they cannot capture all the benefits of those investments. The failure to make these investments creates a "valley of death" between scientific discoveries and commercial production. Failure to translate new discoveries into workable techniques slows productivity growth. Individual firms have shown they don't have the incentive to bridge the valley on their own, so the federal government and nonprofit sector will have to step in to correct this market failure. Without effective efforts to address this crucial shortcoming, we set ourselves up for continuing trouble. The prospects for high-wage manufacturing employment will continue to decline, as our competitors produce lower-cost and higher-quality products".
This sounds to us like something approaching central planning. We're suspicious, and among other things, just how are manufacturing areas selected? Global leadership in manufacturing competitiveness would require cost effective production of goods into an eager market coupled with intelligent improvements and new products that market desired. Central planning will accomplish that? Inquiring minds certainly want to know how that all works. But to continue:
The article suggests that the more successful country competitors have established robust private-public enterprises which focus resources on specific manufacturing areas, such as aircraft, electronics, medical, and many others. For example, "74 Fraunhofer institutes-public-private applied research consortia are currently supported by Germany, each focusing on a specific manufacturing area, such as applied optics and precision engineering. These institutes assist German manufacturers, the majority of whom are small and medium-sized businesses, in maintaining consistent productivity growth and delivering high-quality manufactured goods".
Manufacturing USA apparently is such a collaboration. The website presents a very sophisticated array of academic, commercial and government resources all designed to carry out the mission of Manufacturing USA, which is:
"Manufacturing USA, previously known as the National Network for Manufacturing Innovation, is a network of research institutes in the United States that focuses on developing manufacturing technologies through public-private partnerships among U.S. industry, universities, and federal government agencies. Modeled similar to Germany's Fraunhofer Institutes, the network currently consists of 16 institutes. The institutes work independently and together on a number of advanced technologies".
Who knew? We're embarrassed to admit we've never heard of Manufacturing USA despite working in domestic shops for decades.
Some time ago we investigated Tech Solve, the Cincinnati facility funded largely by the Ohio Edison Technical Center program. The OETC program was begun in 1984 as one of the state's very first initiatives to help its manufacturing companies address their survival and growth needs. OETC consists of 285 scientists, engineers, and business experts at six manufacturing assistance centers. Each Center has highly specialized manufacturing, technology, and industry expertise and resources. Tech Solve is/was Cincinnati's assistance center, focusing on advanced machining and industrial engineering.
This sounds like exactly what the Market Watch article was recommending. What happened to these facilities? Over time our experience was that Tech Solve evolved into a bureaucratic and expensive organization primarily interested in working with major companies. Their work to help smaller companies with lean manufacturing? We've heard nothing about this for several years.
If anyone can educate us on what's going on with these facilities please let us know via our blog.
A cynical view is these collaborations tend to become enmeshed with the Fortune 500 size companies and smaller businesses are set aside for any number of reasons. One is that the big companies have sophisticated organizations with resources, both money and personnel, available in many areas to deal with government agencies and university scientific departments. But what these large firms are not particularly good at is speed of execution. And that is what the smaller companies are very good at (at least in some cases).
Are we correct with the observation that Manufacturing USA and the Ohio Edison Technical Center program are virtually unknown in the smaller business world? Anyone have any information to share?
We have a few recommendations. First, greatly increase efforts on training facilities for trade skills such as welding, metalworking, and other skills, perhaps even over the road truck drivers. Who would ever think higher gas prices is due to the lack of truck drivers! This would focus efforts to reduce the problem of lack of workers throughout manufacturing. Maybe even such efforts could institute some flexibility to address changes in skills needed.
Another thing to do would be to publicize the manufacturing capabilities required for whatever initiatives Manufacturing USA and other collaboratives are exploring. This publicity might include expected growth and timing of whatever is planned and how a candidate would respond to the need for vigorous improvement work as well as collaborating with these researching organizations. In particular, avoid the federal purchasing system, which is very difficult for smaller businesses to deal with. Rather, just issue RFQ's for whatever is needed. This might be done via something like a special Linkedin or Facebook group as an example.
Let the big organizations—major corporations, universities and government agencies- do their thing with meetings, committees and reports. However, when action is required, let the small businesses demonstrate how to get things done quickly and efficiently. That's what they are good at! Together we can indeed make America more competitive!