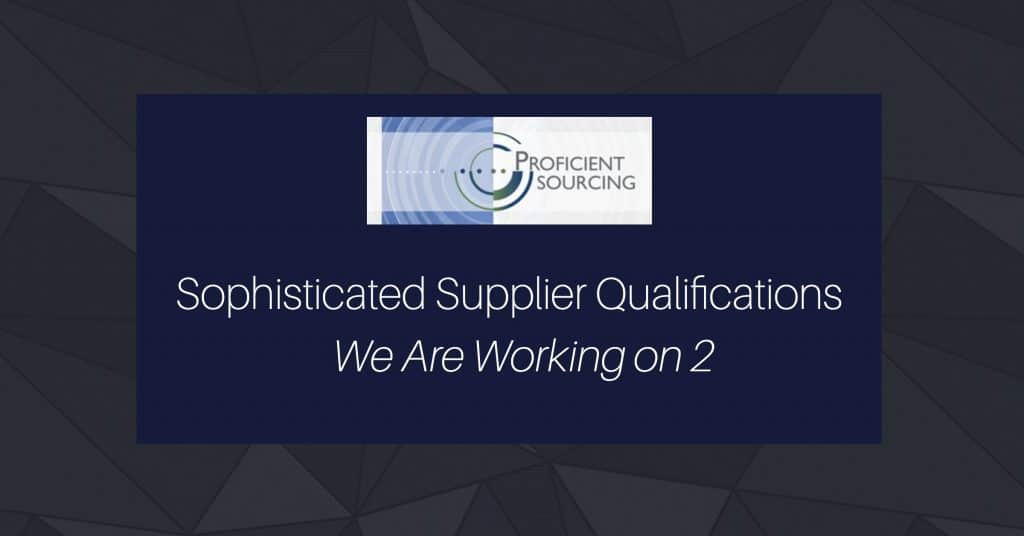 Last newsletter we shared an article concerning potential supply chain disruptions arising from coronavirus in China. Lately we're heard both Apple and Walmart are experiencing major problems. We heard a radio report that aspirin's price in India has risen 400%, again due to China supply problems. Apparently almost all drugs now are made in China, so who knows where all this is going, but it does not sound good.
We at Proficient Sourcing have a variety of potential suppliers available for almost any metal or plastic parts needed, no matter the sophisticated supplier qualifications needed. And in the meantime, we are working on a couple of major projects involving qualifications of a second vendor.
If China supply becomes a significant bottleneck, you, too, may be looking for a quick alternative. And in the case where rapid replacement of a single Chinese supplier is needed, we may be able to help. It seems to us finding a domestic supplier on short notice ought to be significantly easier than looking overseas.
In both our current projects the requirement is for complex and precise work. The items are both large and require a few months to complete. The first ones are likely to require 2-3 months after a purchase order. These two do not involve replacing something to do with coronavirus, so the manufacturing time is not a factor.
Project #1 is a large, complicated custom machine, and 10-15 similar items are manufactured annually. Our candidate has bid on several similar items in the past, but so far no success. Our candidate has become concerned that their quotes are being used to check on the primary. Recently, the OEM has indicated more interest in developing a 2nd source, and visited our candidate late in 2019. The OEM found everything needed in our candidate, and a serious conversation about becoming a supplier recently occurred.
Our position was that it would be unlikely our candidate would outbid the established supplier, as there is a substantial learning curve. Rather, we suggested the OEM give us a price for a machine and our candidate would either make the machine for that price or enter into a negotiation.
Alternatively, our candidate offered a price for a specific machine and the OEM is considering whether to pursue our offer. If the OEM is serious about qualifying our candidate we expect a negotiation very soon. If not, we conclude the OEM had "a better offer" and we will part friends.
Project #2 has been going on since late 2018. A European company desires to move some manufacturing into the US, where they have a market for their machines currently made in China and Europe. We offered several candidates for a major component, and the OEM selected one. Once selected, our candidate sent a major member of management to the US assembly plant recently completed, and also to the European manufacturing site to learn exactly how these components were being made.
At this point our candidate received a PO for the first component, and upon successful delivery and inspection, we are anticipating a small production quantity PO—perhaps 5-8 machines with an ongoing potential of many more on an annual basis.
In both these cases the OEM required fairly sophisticated actions by our candidates. This was particularly the case with the European OEM, as the project involved language translations as well as metric-english conversions. The point of this is we have the type of companies that can deal with such difficulties and succeed. Perhaps we can help with your requirements? If so, please give us a call at (513) 489-5252.