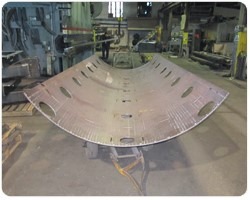 Our network of suppliers contains several companies that specialize in the very large, the heavy, the thick (as in plate) and not only metal, but also plastics and fiberglass.  The photo above is was press brake formed from 110,000 PSI tensile strength, AR400 steel into a .750″ thick, 18′ long and 8′ wide component, and that customer required 20 of these items monthly.
If you are an equipment or machinery builder, you might need equipment bases from plate or large parts machined. Perhaps you need steel plate work such as mixing tanks or underground containers.   Our plate fabricators can roll ¾" plate to lengths up to 13' in a single part. A 30' press brake is available, and can handle 4" thick plate. Naturally these suppliers feature a variety of welding as well as water jet, laser, and plasma cutting.
Reach Out to Me Directly for Questions
Just give me a call (513) 489-5252!
Perhaps you need very large items machined or ground. If your work is less than 88 feet long, 14 feet wide, 10 feet high and weighs less than 150,000 pounds, we have a shop that can handle it.
If you need a very large formed fiberglass item, we have a custom manufacturer capable of making something up to 40' high.
If you need a hollow or foam-filled or double walled plastic part where strength is critical, rotational molding might be a good choice. A variety of plastic materials can be used for roto-molded items, and tooling cost is relatively low.
If your large machining requirements call for a boring mill, our shop can machine up to 50' x 14' x 4'. It features 4-axis readouts and has 800 square feet of steel floor plate. This mill, plus others, includes rotary tables and right angle milling heads.
Or surface grinding? The answer is yes, so long as the item is less than 10' x 23'.
These are but a few highlights of the large item capability we have found to be difficult to find. Just give us a call (513) 489-5252 if you need LARGE!