When you need a wire clip, hanger, striker or linkage, a display rack, inlet screen, or other item made of wire, please keep us in mind.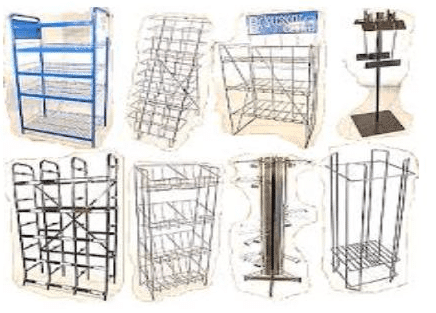 Wire is formed into desired shapes via vertical forming machines, CNC wire formers, and also fourslide machines. We have several companies that specialize in this form of manufacturing and would welcome your inquiries.
Click here for more information.
One company specializes in the retail-type of wire product, and that includes specialized items like fishing pole rests and mole traps in addition to the POP racks mentioned above. This company also has in-house CNC milling and turning, sheet metal fabrication, laser cutting, and Mig and Tig welding, This variety of capabilities often leads to the manufacturing of complete assemblies and products.
Another company is a TS certified automotive supplier, which requires heavier equipment. This company also has extensive sheet metal fabrication capability and a variety of stamping presses. They focus primarily on automotive, lighting, defense, packaging, agriculture, and heavy trucks.
A third company, primarily interested in springs, also manufactures a wide variety of small wire items and has fabrication, paint, and silkscreen capability.
When wire is on your list of suppliers to find, we can help and would welcome the opportunity to do so.