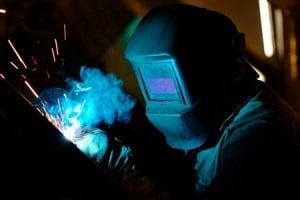 A recent addition to our network of shops is a fabrication shop with complete services for complex and  certified welding of virtually any material.   Another specialty is customized structural products such as cat walks, metal stairs and handrails.   This shop can handle sheet metal work as well as plate/heavy fabrications, and especially those requiring difficult weldments.
Reach Out to Me Directly for Questions
Just give me a call (513) 489-5252!
Here are just a few examples of the specialized outstanding service available to you:
A set of switchback stairs was cut in half and reworked by adding columns, modifying handrails, and re welding them so they were one continues set.  This project is an example of customized on-site work.
Designed, fabricated and installed 3 water towers, 20' high.  Also removed aged railing network for a company's outdoor area and then designed, fabricated, and installed a new attractive system.
Welded over 30 precisely machined aluminum attachments in a cyclone assembly.  In another assembly, multiple grade 2 titanium components were welded.   In a third example, repair TIG weldments were made on a stainless steel tank in confined spaces.
Overall, this company is your answer for metal fabrications needed promptly and with very competitive terms.  This is especially the case for on-site work such as that illustrated in the examples above.