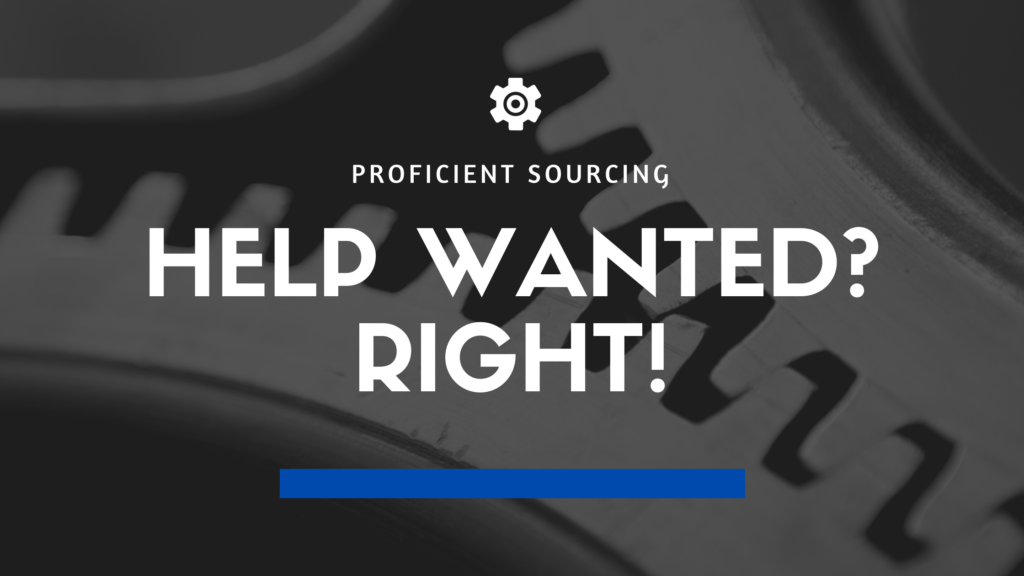 Jobs, jobs, jobs are frequently in the news these days, as the feds consider their various spending propositions. Since the last go-around of "shovel ready" projects apparently discovered most shovels were MIA, we wonder if all this jobs talk will be an economic boon or something else.
At the present time we see rapidly rising fuel, metals and lumber costs, a transition to open businesses up after a lengthy restrictive period for covid, and some hint of pending inflation. Is this an environment for healthy business? And then there's the issue of staffing. With all these jobs in the offing, who's going to do them and where are these people?
We at Proficient Sourcing deal with manufacturing job shops, and they are normally in the $10-25M annual sales size. So we have a pretty good view of small manufacturing businesses, and 100% of them are looking for good employees. Some have growth limited by the lack of new employees.
Apparently this is not a circumstance confined to mostly midwest small manufacturers. The news is full of accounts of large companies struggling to find new employees, and we dare you to find a fast food shop without a help wanted sign somewhere. Surely there are some, but we haven't found any in our very informal search.
So what's going on here, and who's doing anything about it?
Just the other day we heard a NYC radio commentator talking about the reopening of restaurants is being handicapped by this absence of workers, even their laid off workers are reluctant to return. So it appears this is a very big problem, and is spread throughout the economy.
Clearly if this trend continues, it will be a big boon to the robotics industry and also for anyone in the labor saving field. But for the rest of the economy, things look problematic.
Surely some people are still concerned about covid, and are nervous about returning to their "normal" work circumstances. This problem will take some time to lessen, and the perhaps warmer weather will help.
We hear that covid effects are very bad for older people, and significantly less for those under 50—60 years of age. We've also heard treatments are now significantly improved. Thus, the overall risk for those not in the advanced age group may be less than popularly thought. And if that's true, better federal guideline information would certainly be useful.
Then there's the issue of pandemic unemployment relief. In OH the simplified unemployment math is that benefits are based on 2019 income, and 50% of this figure is the normal weekly unemployment benefit. There's pending legislation to exempt the first $10K or so of this from income tax (not sure if that's a OH measure or a federal one). Then add the $300 week pandemic unemployment relief federal program, which is good until sometime in September and the total of all that is a pretty significant motivation to NOT work! The requirements for job seeking are not difficult to accomplish, and so evidently someone can remain on unemployment rather easily and not have much of an income reduction in the bargain! Talk about a dual edge sword!
In fact, we hear a few states are working to redirect the $300 pandemic payments to incentivize people going back to work. For example, "A news release says that the State of Montana will launch a return-to-work bonus program, utilizing federal funds authorized by the American Rescue Plan Act. Return-to-work bonuses will be paid to unemployed individuals who rejoin the labor force and accept and maintain steady employment for at least one month". This from KRTV.
Then there's John Deere as just one example of a major employer. We read a news article recently reporting on the unprecedented difficulty they are having finding sufficient new employees to ease their growing and large backlog of equipment orders. Historically Deere has not had any trouble attracting resumes; not so this time, even though Deere is the area's premier employer with good benefits.
This is occurring somewhere in Iowa, and since Deere is paying a starting wage of something in the $19/hour area (if we remember correctly) the $15 minimum wage momentum would have no effect. So that's not the problem.
Besides those issues above, the Deere case is also affected by their cyclic layoffs, which is scaring former workers from re-applying. The Deere business is partially dependent upon crop prices, which is a possibly scary variable for anyone considering an application.
Policy under the Biden administration has greatly increased immigration, and some think this ought to help employment shortfalls. But without any filters on who comes in, we do not understand how someone unlikely to speak English well and without much education is likely to be a helpful addition. Most manufacturing shops we know are interested in people with basic math knowledge and some familiarity with machinery as a really basic minimum. So the flood of new immigrants do not seem much of a solution for the businesses we deal with.
When the XL pipeline was shut down, and some 11,000 jobs were abruptly lost, good new green jobs were mentioned as the alternative. Anyone seen any of those anywhere yet? We have not.
It seems to us that rosy predictions of "jobs, jobs, jobs" are perhaps a bit optimistic. We see many problems growing and probably increasing. Is there anyone at the federal level (or elsewhere, come to think of it) working to address any of these problems?
Inquiring minds want to know. And we'd be very interested in your views.