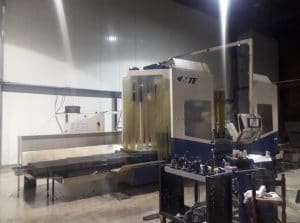 Machining components for OEM equipment builders is a special interest area, and we have a number of candidates for such work.  One of these is a versatile machine shop specializing in short runs for larger parts.  They say their size range is "from the size of your hand up to as big as a rail car", and here are the specialties of the house:
Machine tool tooling-parts for assembly lines and associated machinery
Large turning
Machine and conveyor roll and shaft repair/rebuilding
Machine frames, weldments, and bases
Work-holding fixtures
Rough finishing of castings and forgings
Machining prototypes for newly designed castings/forgings
CNC OD shaft grinding
Wire EDM
The company features numerous large mills and lathes, along with these special machines:
New 185" large bed mill with indexable head
Floor Mill-312" travel
72" Vertical turret lathe
CNC OD grinding: Up to 4" diameter/44" length
Reach Out to Me Directly for Questions
Just give me a call (513) 489-5252!
Secondary operations include welding, painting, and honing.  The mission is to be able to handle almost all requirements for short run large component work you might have.
This shop has been particularly successful with OEM's having machine rolls and equipment components that need machining and welding.  Short run, large component machining and equipment or conveyor roll repairs are especially competitive areas.
If you require a supplier for large component machining with several secondary options (welding and grinding), quantity shafts OD grinding for pumps or other machinery needs, machine roll repairs, equipment frames and bases, large weldments and turning, or prototyping for future castings, then we have a candidate for you!