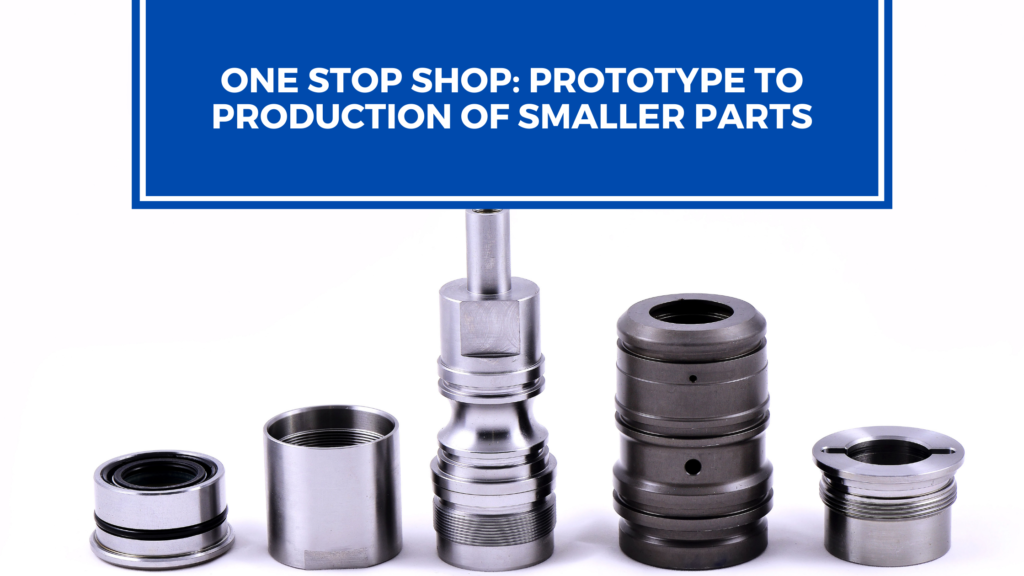 We have a shop that has a fabulous array of capabilities for small parts and assembly shells that accommodate smaller pieces. We know of no shop with a more extensive list of capabilities—if you need a highly precise metal item (or plastic injection molded) of almost any sort that's under a 24" cube, it's very likely our shop can handle the job with great skill, including relatively hard to find metallic 3D printing, forging, coatings, and metal injection molding in addition to more traditional metalworking.
Customers in need of sources for very precise work involving multiple capabilities, and perhaps even design/technical consulting can now find all this in one place. Everything from 5 axis machining, CNC lathe work, swiss turning (micro machining) stamping, and even both metal and plastic injection molding are available under this single roof!
And there's more!   Metal 3D printing, forging capability up to 10 pounds, and metal finishing (plating, passivation, phosphating, and anodizing) are all available in this same shop!
Especially high precision difficult work can be handled from prototype through production volumes. In fact, offshoring is also a possibility, as relations exist with foreign options. What more could a customer need or want? All this with a history of on-time delivery and competitive pricing.
Not to mention an excellent quality and customer service reputation.
A bonus! This company does metal 3D printing and metal injection molding (MIM). These processes can be especially valuable for small metal parts with difficult and precise geometries needed in from small to production quantities, not to mention the ease of complicated prototypes. Among the advantages of MIM are the flexibility of powdered metal technologies along with plastic injection molding's ability to make LOTS of duplicate parts quickly.
Before committing to metal injection molding, with the associated tooling, prototypes and even test market quantities could be necessary. This company has the ability to do all that—metal 3D printing, up to 5 axis CNC machining, swiss turning for micro machining, CNC lathe work, even stamped parts are available from this single source.
If plastic parts are the ultimate objective, plastic injection molding is also available. This company is the rare one with both metal and plastic injection molding!
Suppose your requirements involve 5 axis precise CNC milling along with stamping. Or micro machined parts associated with plastic injection molded parts. Or a small prototype (3D printed?) in anticipation of something requiring metal injection molding. Perhaps even some CNC lathe work is needed as well. Perhaps you require a forging or a metallic 3D printed option. Finally, metal finishing that does not require outsourcing! This company can do all these things along with experienced technical assistance.
Any or all these capabilities are only a phone call away (513) 489-5252.