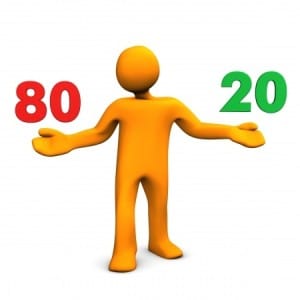 Pareto's Principle, the 80-20 rule, is usefully applied in many business situations.  Customer service, sales efforts, employee management and even the structure of the supply chain are all areas where applications are recommended, and success reported.  There is abundant literature on the value of such applications, and lots of available advice on how to do so as well as claims of great benefits.
One such supplier-related article, in Industry Week, begins with this:
"Kevin Mixer, research director at AMR Research, is spreading the word about "sustainable supplier structure". In an Oct. 12, Industry Highlight, Kevin discusses recent actions taken by the automotive market to change supply chains by consolidating vendors. The recent announcement by Ford to cut its production supply base by as much as 70% to hit a target of 700 suppliers down from 2,500 is a recent example of this new strategy".
The article cites several other examples of great improvement from consolidating the supply base.  We presume some 80-20 type analysis was used to do this, but the article does not indicate how target numbers were derived.
In that Proficient Sourcing seeks to establish new relationships between our network of excellent manufacturing job shops and the OEM buying population, strategies to cut the supplier base give us pause.  But perhaps there might be good news for all in such a strategy.  As with most "rules" a lot depends upon the method of application.
Personnel management is a case in point.  Jack Welch of General Electric recommended use of a strategy similar to the 80-20 rule for employees.  As you can imagine, there could be varied consequences to the following if not done thoughtfully:
"Jack Welch…believes that managers should assess their employees every year, and divide them into three categories: the top 20 percent, the middle 70 percent, and the bottom 10 percent.
"The top 20 should be showered with praise, affection and various and generous financial rewards.  The middle 70 should be given coaching, training, and thoughtful goal-setting.  As for the bottom 10 percent, they have to go."
The complete Jack Welch reference is here.

In past posts we have referenced various articles recommending supplier evaluations, and in most cases key metrics for such evaluations have been identified.  Creating some record of supplier performance can provide a basis for supplier consolidation, similar to the Welch approach for employees.
Benefits resulting from a comprehensive evaluation of the supplier base and then pruning the low performing suppliers, are mission accomplished.  On the other hand, if efforts to prune the supplier network happen primarily to achieve some arbitrary number target, consolidation benefits may not be forthcoming.
After all, every supplier was chosen for some reason, and usually because that supplier provided the best answer to a problem at the time.  If the supplier is no longer providing the best answer to you, then there may be justification for replacement or elimination.
However, eliminating some supplier means another one needs to pick up whatever the eliminated one was doing.  Even though the pruned supplier is not performing well, it could be that another existing supplier does not have the wherewithal to be effective in this new role.  Your supplier base may not have a suitable replacement, despite claims to the contrary.  And even if the capability exists, does that replacement have the capacity you need?
There are many twists and turns to the subject of consolidating suppliers.  If you are doing so, either currently or in the future, we hope you will remember that Proficient Sourcing has a large network of excellent performers, and perhaps our companies can help.  Just give us a call (513) 489-5252.