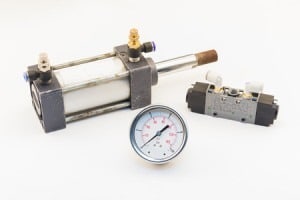 We feature several diverse companies that make parts for these applications. Recently we've added a new (actually quite experienced one) company to supply powdered metal (P/M) parts.
Core competency is sintered bronze impregnated bearings.  These can be impregnated or infiltrated with oil, wax, resin or metal.  The oil will always reside in the bearing and does not require replenishment.  When the shaft spins, the heat generated draws a thin film of oil from within the impregnated bearing.  When the shaft stops, the part recovers the oil via capillary action!
Reach Out to Me Directly for Questions
Just give me a call (513) 489-5252!
Highly complex parts, such as gears, may be a good powdered metal candidate.  The P/M process allows for easy alloying with materials otherwise difficult to combine.  The process also creates a near net shape, and subsequent machining, for example, is minimized.  In fact, difficult machining or forming of complicated features, such as gear teeth, can be much more easily manufactured via the P/M process.
Motion control equipment and pneumatic cylinders are almost ideal applications for P/M parts.  But beyond those, the applications are limitless.
While all P/M parts are porous, and the pores are interconnected, they can be filled with metal or resin, or the part can be plated to make it impervious.
The P/M process is green manufacturing.  There is very little waste at any point of production, and quantities available can be very large or very small.
So if you need precise near net shape in a complicated alloy (otherwise difficult to achieve), where minimum machining and setups would be valuable, then consider powdered metal.  And if your application involves a rotating system of some sort, a self-lubricating (for life) bearing or bushing could be yours.  Just give us a call at (513) 489-5252.  We are ready when you are.