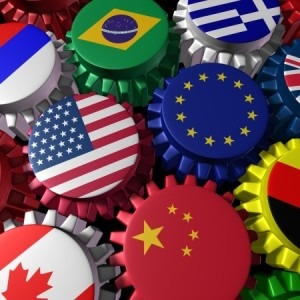 The Trump administration has promised positive trade deals!  So just what might we expect?  During the run-up to this election, we all heard about bad trade deals and that improvements were coming.  Once the new administration took office, the US exited the Trans-Pacific Partnership.  We wonder what's next!
The January, 2017, edition of Modern Metals had thought provoking information on the subject of trade.  As one would expect the focus of the articles and editorial was metal supply, primarily steel.  But the points raised are worthy of your attention.  Here are just a few that illustrate the devil that will surely be in the details:
The World Trade Organization evidently has different rules for members depending upon whether or not the country is judged a "market economy".  At the present time, China is not, but complicated legal activities are viewed as "a first part of a campaign to have China recognized as a market economy."  Tariffs apparently can be applied differently depending upon this market status.
One source notes "pure and simple:  China's not a market economy.  It fails all six of the tests.  …  These tests cover current management; the ability of labor to bargain, the ability of foreign companies to invest on Chinese soil, …" and more.
According to another trade organization, the Trump administration may be tasked with studying currency manipulation and "will look to increase tariffs on China, … and may also reexamine the role of the US in the WTO".
The primary problem under discussion is taking action against a country (mostly China) that subsidizes and/or dumps raw materials, with steel the most notable.  As one article notes, "Once the circuitous process of international legal wrangling is concluded, the affirmative decisions appear to pay off, but often the realized benefits don't last as long as the process itself.  … There's another country … taking the place of the one sidelined by tariffs, or the product comes through US Customs in another form not subject to duties".
As if all the foregoing wasn't bewildering enough, here's more pending confusion for anyone interested in following trade developments:
"Often, being able to grasp the scope of the US market is problematic because of the lack of consistently available, reliable market data…. Trade associations and the government must make assumptions using insufficient information".  In one case, …"the information from Washington was completely wrong.  Nobody knew what consumption was or what actual capacity was".
Then there's this from a legal trade expert:  …domestic trade remedies—which comprise the main weapon for US [steel] mills against imports, haven't kept pace with reality.  There's not one, there are thousands of steel grades. …  Competitive conditions in a foreign producer's home market versus an export market can be very different but US trade laws don't address that, either".  And, as another trade law expert notes, "I don't think anti-dumping cases work".
Here's an example of another expert's claim that "US importers and metal-consuming industries are hurt by tariffs at least as substantively as domestic producers are injured without them.  … About 10 years ago the US blocked all magnesium from China to protect 300 jobs…. So the entire die casting industry here shut down".
Confused yet?  How about this:  "One of the biggest obstacles to determining what is and what is not fair trade is pricing information, both in the US and abroad.  "Some of our most important trading partners are treated as a non-market economy so [their] home market price is irrelevant".
The Modern Metals trade information we've summarized here refers almost entirely to steel.  Given how complex that one item is, it's difficult to imagine how any overall productive trade deals can be constructed over a short period.  Perhaps that is why TPP consumed what's been reported as 10 years, and now that's dead.
Optimism seems hard to achieve on the issue of foreign trade, and we would welcome your comments on our blog.   If you wish to read the Modern Metals editorial (p8) and trade article (p14), here's the link:  https://www.modernmetals.com/latest-issue.html.