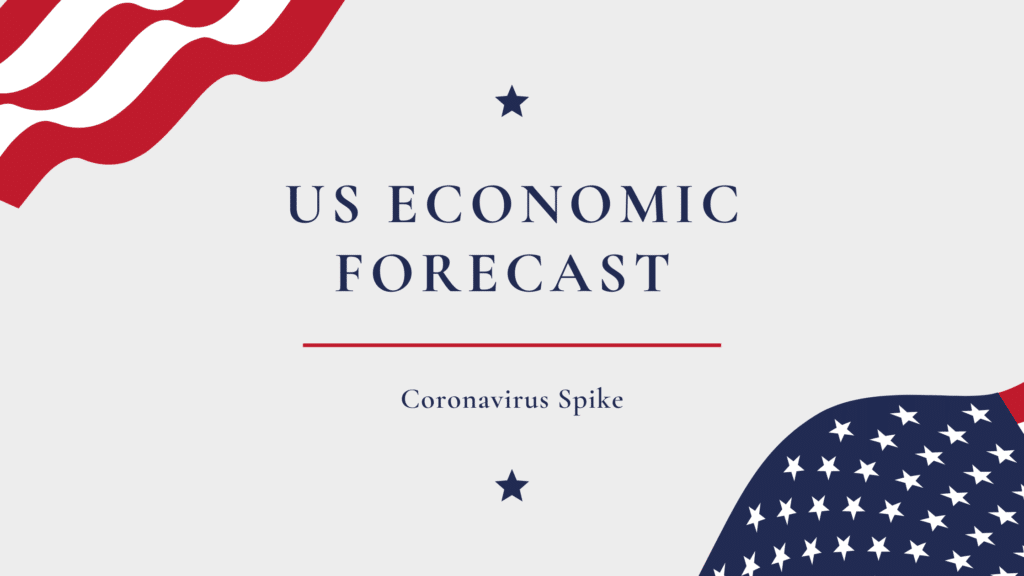 Given the recent spike in coronavirus cases, what's the latest US economic forecast? Cynics would note if you take a dozen economists in a room you'll get a dozen different opinions. This is probably more true in the highly partisan political climate, adding more confusion.
So we listened to a video from ITR Economics, a non-partisan forecasting firm in New Hampshire that has a pretty good record of accuracy. And the good news is ALL their leading indicators are pointing up for 2021 through 2023. If this floats your boat, go ye and invest! And you'd better do that quickly, as available labor could be a stumbling block shortly.

Looking beyond ITR, some reports have found consumer confidence, retail sales and small business outlooks all suggesting better times ahead. And somewhere we read consumer spending drives this economy, so does this mean full speed ahead despite lockdown threats and uncertainty as a new administration is probably poised to take over?
There are certainly cross-currents these days. Rising layoffs, more threatened via lockdowns as the virus spreads, and mass congressional lethargy with respect to more relief. If you are involved in industries such as restaurants, hospitality, travel, and personal services—hair salons (not counting Nancy Pelosi's) and the like, then you have a very uncertain future.
On the other hand, durable goods are on the rise. Amazon's doing great and historically low interest rates have seen a shot in the arm for home sales, mortgage refinancing, and automobile refinancing. It seems many people have used these lower rates to improve their debt positions, giving them more money to spend on things like home furnishings and others.
So these times are good news for some segments. Again there's conflicting information: this happy talk about home furnishings, automobiles and the like may be at the expense of travel and entertainment events, not to mention going out to restaurants. And for this latter group, there's the coming of colder weather to discourage outdoor eating.
Job reports are a mixed bag as well. Apparently there's a problem in California which has not submitted data regarding new claims for a few weeks. There's been an information lockdown there as the CA labor department has been trying to deal with fraud and other widespread problems.
Overall, hiring has slowed. For three straight months the US Labor Department has reported a decline in the monthly employment report. This means about 50% of the 22 million people who lost jobs at the beginning of the pandemic remain out of work.
We have also heard rumblings about layoffs pending in the news business and places like Disney. So concerns remain. If job growth has slowed, perhaps going the wrong way, how is this good economic news overall? Certainly not for those out of work and looking.
So what we have here is some good and some bad. What are our leaders doing about all this? The 2 federal forces most influential are Congress and the Fed.
According to an ABC New report "Federal Reserve officials are meeting this week with the economy facing growing threats from a resurgence of the coronavirus and from Congress' failure to provide any further aid for struggling individuals and businesses."
It's likely Congress will remain inert for a couple of months while the election result becomes clear. Most probably a new administration takes over the reins with a Democrat House's majority cut almost to the bone and a Republican Senate. That doesn't sound to us like a format for effective action, but we shall see.
And since interest rates are at an almost zero level, what can the Fed do other than maintain the status quo? The ABC News report notes this: "The Fed is going to be very worried about the risk of a double-dip recession given the lack of further support by Congress," said Diane Swonk, chief economist at auditing firm Grant Thornton. Some Fed watchers think the policymakers may be discussing whether to increase the power of their other major program — a bond buying effort that is intended to boost the economy by lowering longer-term borrowing rates. But any such announcement won't likely be made until a future meeting."
Apparently what all that means is … very little in the form of federal help, at least in the very near term. After that? Who knows?
So what we can conclude from all this is there are many very healthy signs indicating economic growth. Again, to repeat ITR"s view, the leading indicators are all good.
However, in the very near term we have some powerful negatives. Federal paralysis due to election confusion and bureaucracy inertia is certainly one factor not helpful at the moment. Then there is the growth in coronavirus cases with the attendant threatened actions by various state officials to handicap business activity in many cases. This surely leads to increased tension in the population and who knows where that might lead.
On the other hand there's the prospect of vaccine rollout in the very near future. This can't help but accelerate economic activity positively.
So stand by and get your popcorn out! It should be a fascinating short term, hopefully leading to better days ahead.