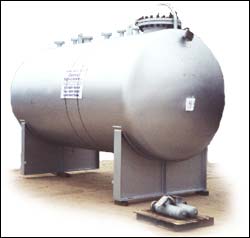 We visited our primary source for custom pressure vessels, and were re-impressed.
We learned many chemical companies employ engineering consulting firms to source custom pressure vessels, reactors and distillation towers. If your company needs chemical processing equipment, perhaps we can save you lots of time and money. Our primary custom pressure vessel manufacturer has been serving customers in need of vessels for chemical processes mostly in the midwest for over 60 years.
Reach Out to Me Directly for Questions
Just give me a call (513) 489-5252!
In addition to their products, our company also offer chemical equipment design services to further help Midwest plants thrive. From preparing an RFQ and pressure vessel design services to drafting, engineering, and more, they take you through the entire development process step by step. They can also help with ASME code calculations.
But custom pressure vessels is the primary endeavor. Our recommended company has all the engineering you will probably need, and with over 60 years of experience with all manner of custom pressure vessels, we believe your requirements may well fit within the file of tanks this company has already built. And if more basic storage tanks are required, the diameter capacity is 14 feet.
This experience includes the obvious—wall thickness, PSI required, half pipe or dimpled jacketing, volume, flanges and fittings to permit the entrance and exit of various ingredients and accommodate various agitator designs, and even specialized materials for corrosion protection, such as hastelloys. But most tanks, reactors, and distillation towers are carbon steel or stainless steel.
Our company will design and fabricate your custom pressure vessel to ASME Code Section VIII, Division 1 specifications. They have an engineering and management staff with over 60 years of carbon steel and stainless-steel pressure vessel manufacturing experience. They are a trusted ASME pressure vessel manufacturer for the Midwest, and can ship finished projects to nearly anywhere in the continental US.
Need Steel pipe coils or limpet coils? The company manufactures heating and cooling coils in Spiral, Helical(spring), or serpentine shapes. Steel pipe coils are available in sizes that can range from ¼" to 6". Limpet coils provide excellent heating or cooling capability to cool or heat the contents of your tank.
Pipe bending needed? They can also bend pipe ranging from 1/4″ in diameter to 24″ in diameter, and shape those bends into elbows, sweeps, jogs, etc. depending on your specific needs and tailored to your required radius of bend.
So: when you need a custom pressure vessel, or perhaps a mixing or storage tank, give us a call: (513) 489-5252. We are ready whenever you are.