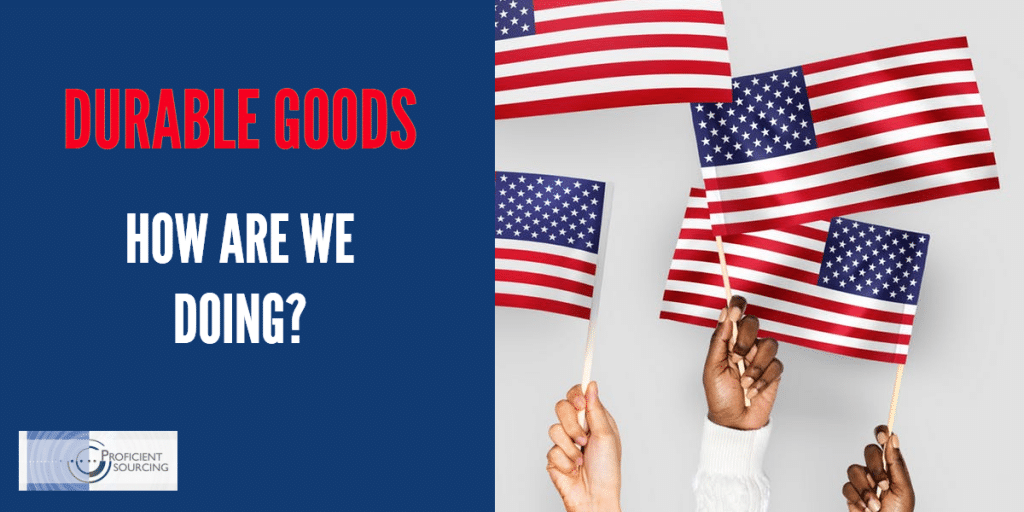 We have noted a number of pessimistic economic forecasts lately, what with Brezit yes and Brexit no, not to mention Trump vs. China and the nervous Dow.  So to those in the durable goods business, how are you doing?  Please let us know via our blog.
In the meantime, we looked at a number of economic websites, but who knows which of them are credible?  One of us here at Proficient Sourcing is an econ major and all he tells us is for every economist, there's an opinion.
Our 5/23 newsletter dealt with durable goods, and in that newsletter are a number of useful definitions.  At the end we noted all of the information we reported sounded like good news for machinery, an area we are keenly interested in.  Now it seems the machinery news is more pessimistic.  Again, if you have information on economic conditions, we would be grateful for your comments on our blog.
Proficient Sourcing is a businss that offers candidates for manufacturing of parts and assemblies of metal and plastic.  We are most interested in OEM's looking for supply chain help, whether short or long term.  Recently we concentrated on machinery and equipment OEM's, as we have a comprehensive group of shops that do weldments and heavy fabrications and machining.  This in addition to most other capabilities OEM's might require.  Here's a compilation of most of the capabilities we can offer.
So what is the latest durable goods forecast?  One source says this:  "New orders for US manufactured durable goods rose 2.1 percent from a month earlier in July 2019, the most since August last year, following a downwardly revised 1.8 percent gain and beating market expectations of a 1.2 percent increase. Transportation equipment, up for two consecutive months, drove the increase. Meanwhile, demand for machinery declined.  … Demand for transport equipment jumped 7.0 percent, after increasing 4.1 percent in the prior month, led by a rebound in defense aircraft and parts (34.4 percent vs -38.1 percent) while orders for civilian aircraft (47.8 percent vs 101.4 percent) and motor vehicles and parts (0.5 percent vs 2.7 percent) slowed. Demand also advanced for electrical equipment, appliances, and components (1.1 percent vs 0.8 percent) and rebounded for computers and electronic products (0.2 percent vs -1.5 percent). On the other hand, orders dropped for machinery (-0.6 percent vs 1.7 percent), primary metals (-1.0 percent vs 0.5 percent), and fabricated metal products (-0.9 percent vs 2.1 percent).
Interestingly, these monthly reports for durable goods over 2019 so far are equally up and down.  Does this tell us much about the future?  We continue to look for enlightment, but have yet to find a good source.  Anyone have one?  We'd be most grateful for that referral.
The source for this is here.  So if you are in the transport equipment business and need supplier help to keep up with this good news, please give us a call at (513) 489-5252.