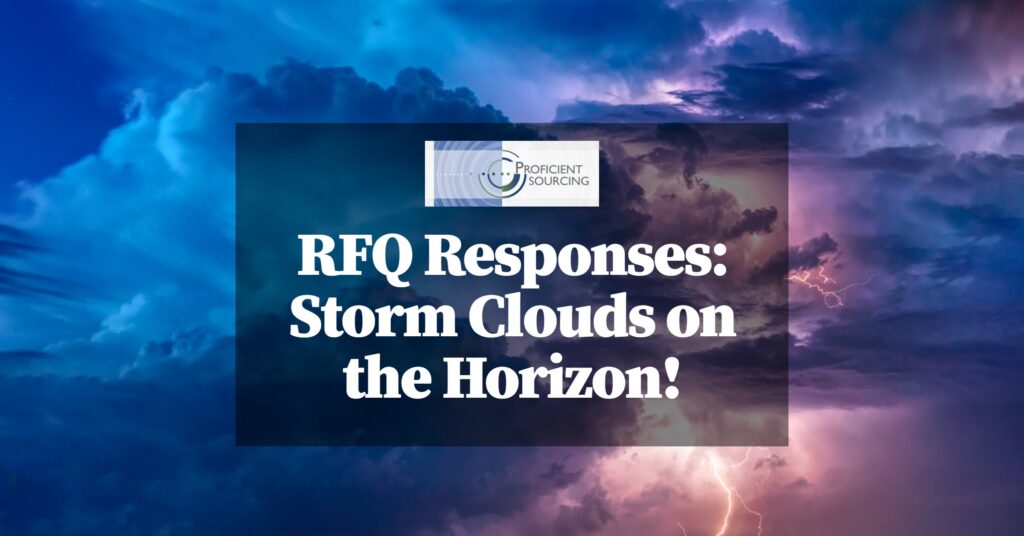 Post coronovirus, manufacturing should improve across the board in the US. This means procurement professionals are likely to be seeking new, different, and improved suppliers for outsourced manufacturing. We foresee frustration in the days ahead.
Why is this? The answer is improved prosperity will exist within the job shop community as well as with OEM's. This means the importance of NEW business is lessened. And, companies are working to accommodate their primary existing customers, who's business is also enjoying prosperity.
Proficient Sourcing provides candidates for your outsourced manufacturing needs. We specialize in sources for machinery and equipment parts and assembly as well as most metal and plastic requirements. We have also added some engineering capabilities.
When an OEM wishes to expand their choices for these types of suppliers, the vehicle is some sort of inquiry defining the requirement. If serious, a formal RFQ is issued expecting a formal response of cost, lead time, terms and perhaps other factors.
Obviously, the more complex the requirement the longer a response is likely to take. Over the past few years almost all responses have occurred within a week to 10 days, perhaps less.
Those days appear to be over, at least for relatively complicated projects. Now we are seeing longer response times from nearly all sources, both metals and plastics. The job shop world has almost universal difficulty finding good new workers, and talent overall is in short supply. Unfortunately, this also applies to estimating talent within the job shop world.
Another factor lengthening RFQ response time is uncertainty in raw materials markets. Prices are more uncertain than ever these days, and today's pricing has a higher probability of change in the near term. A quote formerly good for 60 days might now only be valid for 30 days or less.
Job shops will be busier. This mans there will be fewer resources to apply to a new company's RFQ, and with OEM prosperity there is a growing number of RFQ's to deal with.
And so we see a double-edged sword in the procurement world. Prosperity means more RFQ activity at a time when responses will be more difficult to obtain.
We have a few suggestions to help with your RFQ responses  Simply put, it behooves the procurement professional to improve their appeal to prospective suppliers.  Keep in mind you are competing with other OEM's for the potential supplier's attention.  The estimating people will be prioritizing their work according to the most promising new business.
Here are just a couple of our articles on this very subject; a word to the wise should be sufficient:
We wish you well in your search for new suppliers, and will do our best to encourage timely responses.   We are standing by; ready whenever you are.  Just call us.