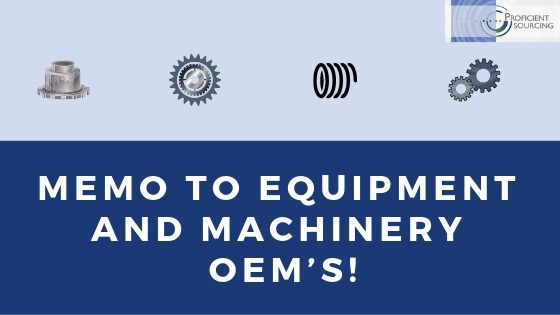 We at Proficient Sourcing wish all a Happy New Year, and especially to equipment and machinery OEM's. Our mission is to provide candidates for your outsourced manufacturing, and we have an especially capable group of metalworking companies very experienced in making machinery and equipment parts of all sorts.
If you have a serious interest, we invite you to investigate our capabilities.  The idea here is to give you a place to go for candidates, without any obligation whatsoever.  Seek and ye shall receive!
What does 2019 hold for you and other manufacturers?  Evidently the majority of opinions is guarded.  See New Equipment Digest's forecast article from 12/20/18 for a good example of the prevailing "wisdom".  Here's a selection:
"We are about to enter the 1920's, and again find ourselves in manic fervor of manufacturing optimism, of embracing disruptive new technology and putting America first.  Additive manufacturing, automation and the Industrial Internet of Things, protectionist trade policies:  Everything seems perfectly positioned for a roaring comeback
But not in 2019.  … the law of diminishing returns is overdue. And the issue clouding any sunny 2019 forecast is the ability for manufacturers to find enough skilled workers to handle all the new tech that has burst forth".
If your 2019 looks problematic (or not, for that matter) then you may be interested in exploring new suppliers, and we have a strong lineup of companies specializing in satisfying your requirements.  The below links give information on a number of specialties, and in most cases we have multiple companies to suggest.  You have no obligation whatsoever!  What's to lose by taking a look?  (nothing!)
If you need VERY large machined or fabricated parts, we have companies in that space, and a good example is Here and Here.
Another capability available to you deals with heavy plate work.
On the other hand, you may need drive train parts, repairs or refurbishment.  We have strength in these areas as well, and the article below this one has information on one specific company's skill areas.  In addition, we have companies that specialize in drive train work, including gear box repair, cutting gears and sprockets, and more.
At the opposite size end, if you need the tiny (and precise!), here's info on that.
Your situation may include stairs, catwalks, platforms, and handrails.
The point of all this is that Proficient Sourcing has collected a large collection of companies that specialize in equ9pment and machinery needs, as well and most anything else in plastics and metal.  These companies have extensive experience and all have a history of happy customers and outstanding performance.
We are optimistic that those of you who wish to explore our network will find excellent choices without risk.  With that in mind, again, wish you a Happy New Year and stand ready to address your needs on an urgent basis.  Just give us a call at (513) 489-5252!